This might sound stupid, but I never found this a simple task, even with PrintScreen and all the key combinations to just grab the current window and whatnot.
Until I found this great tool that's available with Windows 7, I assume with Windows 8 too. It's called "Snipping Tool", just hit Start and start typing "Snipping Tool" and trust me, no more Photoshop or paint to paste the images and save them as JPG or whatever!
Load it, select New, click and drag the region you want to capture and voila, you're done, you can either have it in the clipboard or save it in a bunch of useful formats, just like that, easy, no hassle and no extra downloads.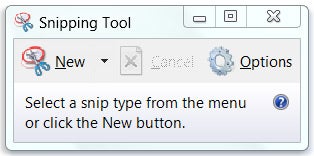 I'm sure Mac OS and Linux aficionados have three hundred ways to do this really easy, but at least for me, this little tool changed my life in Windows 🙂
PS – There is a bunch of different snipping modes, free form, region, window, full screen, be sure to check that small arrow!